Good News!   
Restorative Yoga Workshop to be hosted the 1st Saturday of EVERY month!
Restorative Yoga Workshop – Sat. July 7th, 6:00 pm – 8:00 pm
With the help of props, you are able to go into poses and hold them longer allowing you to maintain balance and relaxation for extended periods of time. Longer times in a pose aid in calming the mind and body allowing a deeply relaxing experience. Led by Julie Lain-Trilling. Cost is $30 with pre-registration strongly suggested.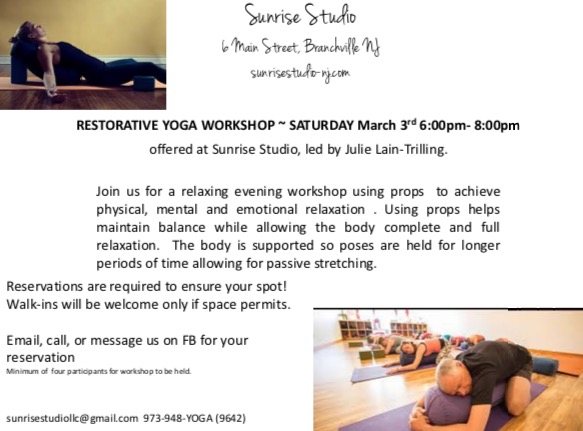 Contact the studio directly-message us on FB or email us at sunrisestudiollc@gmail.com
Contact us for more information (973) 948-9642 (YOGA) or sunrisestudiollc@gmail.com